LPG FOR YOUR HOME
ButanGas LPG cylinders are made of high-quality steel. They are safe, easy to handle, and easy to transport. They are tested and filled in our high technology system, in compliance with current regulations, as well as environmental safety standards.
The cylinders are filled with LPG in liquid form. During the filling process, the cylinder is weighed, tested and put through a quality inspection to check for any leaks and also that the quantity of LPG inside the cylinder is correct.
All the checks, quality controls and sales approvals for the cylinder are certified by ButanGas with a personalized stamp on the tap.
All cylinders are checked for compliance with national standards and approved by a certifying body.
Our highly efficient and well-developed logistics network guarantees constant service, making cylinders available to our clients at over 6000 sales points around the country.
After use, clients must return the cylinder to the authorized dealer that they purchased it from. This is the only way the required safety checks can be made for a correct refill.
Current legislation – Law 64/2008 and Technical Prescription ISCIR PT C3-2012 – cylinders can only be filled by authorized businesses that hold a legal license to refill cylinders. Failure to comply with the aforementioned rules could make you liable to government or criminal sanctions.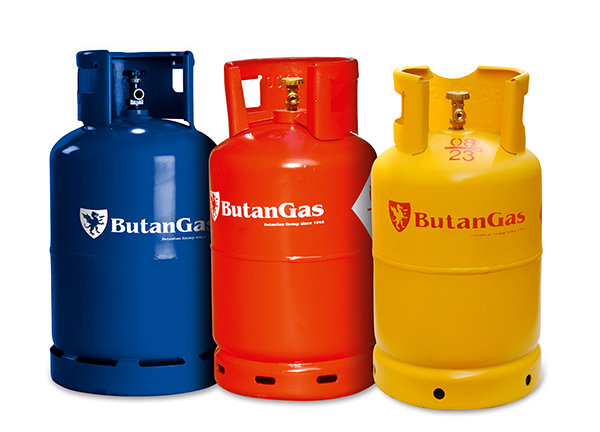 ButanGas provides its customers with three types of cylinder: blue, orange and yellow, all personalized with the "ButanGas" logo.
As owners of these cylinders, Compania ButanGas provides and delivers perfectly operational cylinders for its consumers. For this reason, we take responsibility for the upkeep, regular checks and maintenance of the cylinders. The equipment we purchase and the technology flows in the production process are the guarantee of a product that has been thoroughly checked.
To give our customers the benefit of timely refills, ButanGas has a national distribution network with over 6000 points of sale.
ButanGas cylinders are available in different sizes to meet your every need:
| QUANTITY OF LPG CONTAINED [kg] | TARE [kg] | TOTAL WEIGHT [kg] | DIMENSIONS DxH [mm] |
| --- | --- | --- | --- |
| 9 | 8 | 21/22 | 300×565 |
| 10 | 9 | 21/22 | 300×570 |
| 11 | 10 | 22/23 | 300×570 |
| 12 | 11 | 23/24 | 300×570 |