LPG for company
ButanGas cylinders are available in different formats and can be used in various fields.
10 kg cylinders can be used to power forklifts. Propane is an attractive alternative to diesel as it provides power and high torque, reducing emissions and fuel costs.
33.5 kg cylinders can be easily installed where space is limited and can be fitted to supply large facilities, as needed.
Cylinders can be fitted in racks of 4, 6 or 8 cylinders, only in outdoor buildings, on strong walls and at minimum safety distances
They are mobile and functional, providing greater independence than any other source of heat energy
High heating value with bottled propane
Works in optimum conditions even at low temperatures
Reduces equipment maintenance costs
Does not pollute the environment, with combustion resulting only in carbon dioxide and water vapour
All propane cylinders are versatile and can be used on oxyfuel flows
ButanGas provides its customers with three types of cylinder: blue, orange and yellow, all personalized with the "ButanGas" logo.
ButanGas, as owners of these cylinders, provides and delivers perfectly operational cylinders for its consumers. For this reason, we take responsibility for the upkeep, regular checks and maintenance of the cylinders. Our equipment and technology flows in the production process are the guarantee of a product that has been thoroughly checked.
To give our customers the benefit of refills as and when they need them, ButanGas has a national distribution network with over 6000 points of sale.
Cylinders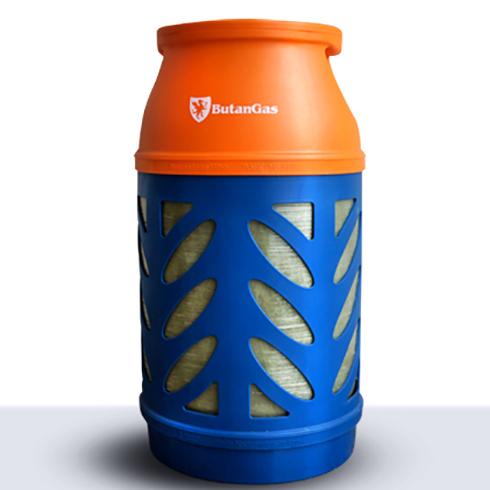 With the aim of supplying the highest level of performance, ButanGas Romania has introduced this innovative solution to the marketplace that means forklifts can operate in the best possible conditions. A cutting-edge product that is an efficient solution for your business.
New composite-material cylinders now give you control at any time over the level of gas in the bottle, thanks to a special translucent material.
The advantages of composite-material cylinders:
VALUE-FOR-MONEY – The tap has a liquid suction pipe so that all the gas in the cylinder is consumed
STRONG – can withstand twice the pressure of a metal cylinder
RUST-FREE – does not rust or accumulate deposits inside the cylinder
LIGHTWEIGHT – thanks to the technology and materials we use, they weigh half as much as an ordinary metal cylinder.  They are easier to handle and reduce the risk of labour accidents
SAFETY – controlled elimination of the gas, reducing the risk of an explosion in the event of fire
TECHNICAL CHARACTERISTICS
| QUANTITY OF LPG CONTAINED [Kg] | TARE [Kg] | TOTAL WEIGHT [Kg] | DIMENSIONS D X H [mm] |
| --- | --- | --- | --- |
| 10 | 5.2 | 15.2 | 305×571 |